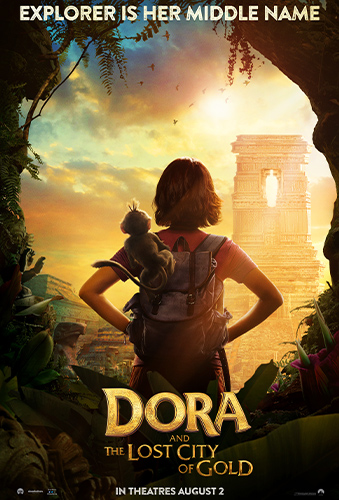 "I was too old when Dora came out. I was already past that stage of watching cartoons, but boy, did she have an impact on me even though I didn't watch it regularly. Everybody knew who Dora was, especially in the Hispanic community, and everything that she represented on a mainstream television [show]: to see this little girl speaking Spanish, and she was brown like us, and she was positive!" — Eva Longoria Bastón
Raise your hand if you remember when "Dora the Explorer" made her debut on Nickelodeon in 2000. She was the first animated Latina character in a leading role, and remains the star of the longest-running American TV show featuring characters speaking Spanish. Now, 19 years later, the live-action Dora and the Lost City of Gold gets the big-screen treatment in a family action-adventure that is breaking boundaries and stereotypes.
Having spent most of her life exploring the jungle with her parents, nothing could prepare Dora for her most dangerous adventure ever: high school. Always the explorer, Dora quickly finds herself leading Boots, Diego, a mysterious jungle inhabitant, and a ragtag group of teens on a mission to save her parents and solve the impossible mystery behind a lost Inca civilization. The film stars IMTA alum Eva Longoria alongside Michael Peña, Benicio Del Toro, Danny Trejo, Eugenio Derbez, and Isabela Moner as Dora.